News and Events
9/29/16 - Is everyone wondering if I fell in a hole? We did finally get funded for the small animal hospital project for Texas A&M and I have spent a good deal of time working (and waiting for go aheads) on the full size drawings and the diagrams but by the time I got the final go ahead (waited 3 weeks for that one) and the full size drawings and one diagram done it was already June and falling afoul of summer plans and summer heat so we didn't actually start fabrication til the last week of August. We had expected to be done with this job last year, or by the end of spring at the latest. So now, we have one of three 4' x 7' panels finished, getting ready to start the sandblasting on the second panel and the stencil for the third for an end of October installation.



Summer plans involved an open house at Houston Studio Glass with 7 artists and varying mediums the first weekend of June, going to Scotland, Lybster specifically way up on the northeast coast to Northlands Creative Glass, for a 9 day invitation only international artist symposium led by Jane Bruce. It was an amazing week and a half where I met some incredibly talented women and got to play with equipment I don't have access to like a diamond wheel engraver which I really liked, and a printing press, which was fun. I did a series of blog posts about it as is my wont when I travel and if you want to read about it here is a link to the first post. Other summer plans included the annual visits from the grandkids.

While waiting to be funded and for the last go ahead, I worked on some waxes and tried to get some castings done but in February the kiln malfunctioned soaring up to over 2,000˚ and turned my little leaflet for the pink flower into an alien geode.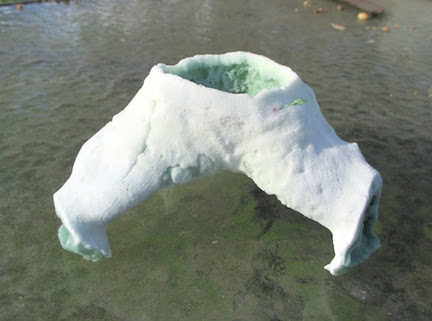 We still haven't brought that kiln back on line and it was months before we cleaned up and plugged in the old kiln which fired right up. Consequently I wasn't very productive for most of this year. I did get the magnolia leaves mounted and finished,



And a new leaflet for the pink flower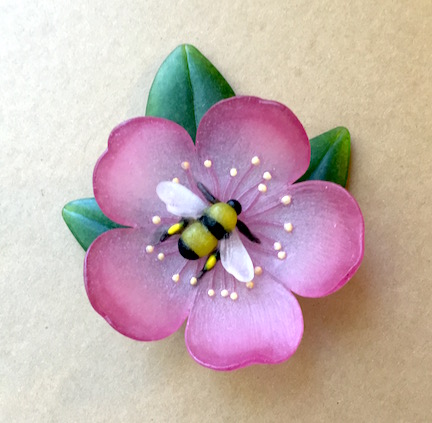 And I got 6 of the bark waxes cast though I'm not sure how I'm going to mount them for hanging, I'm thinking in a single grouping on some stainless steel,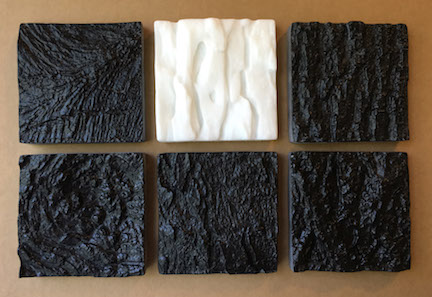 and I got a new moonflower piece and leaf plaque cast but haven't completed the finish work on any of it.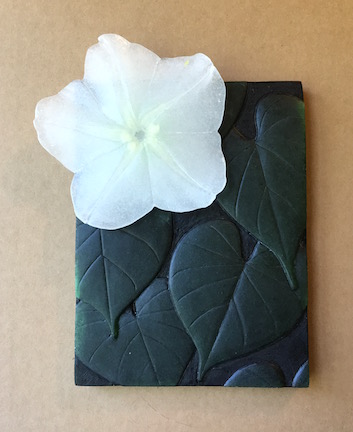 No more work gets done on the pate de verre until we have finished the A&M commission and then I plan to turn my attention to the small work. The open house we paticipate in annually at Houston Studio Glass in December will run for two weekends this year. The first weekend in December will be all glass artists and the second weekend will be a mix of mediums similar to last June. All the pieces you see here should be available at the open house in December plus many more I hope.


1/11/16 - Well, I see it's been quite some time since I last posted here. I wish I had some exciting news to share but, no. While we were included in the selection pool for the City Of Houston Portable Works Collection last summer, we were not among those selected. Nor was my entry, Botanica Erotica 15 Anemone, for the Lifeforms2016 exhibition although it is viewable on the website.

I spent a week in Calgary, Canada with my girlfriends last July and the week before I left a small black and white puppy about 3 months old turned up in our yard, abandoned and left to fend for herself. She did a good job of worming her way into our house and hearts and is now a permanent resident here. I've spent months going back and forth with an art consultant about a job for a small animal hospital, 3 large panels, which looks to be funded sometime this month.

Fall was spent completeing a couple of small etched glass commissions and working on a few pate de verre pieces.
Which leads us to winter where I am sort of treading water waiting to start on the new commission. I still have a bit of finish work to do on some of the pate de verre pieces...getting the magnolia leaves mounted for hanging, finishing up the flower with the bee which needs it's leaves to be modeled and cast. I'm ready to start on some new pate de verre work which will be a bit of a departure for me I think though I don't know how much time I will have to work on it until the small animal hospital commission is completed.

6/26/15 - It is summer and it has continued to rain including having the Colorado River go into flood stage. We'll see if it continues to rain through the summer. The plant life is generally happy with it after the years of drought.

I have finally finished all but one of the Botanicas, framed and photographed. I don't know what I am going to do with them yet. You can see them all here in the current work gallery.

I also finished all the componants of the peach box and assembled it.

We received notice from The Houston Center For Contemporary Craft that our work is being included in the final selection pool for the City of Houston Portable Works collection and the selected pieces will be displayed at Houston Intercontinental Airport. The project's completion date is July 31st so we should know by the end of July if and what.

4/21/15 - It's been a rainy overcast winter and a rainy overcast spring. We're having a sunny day today but last Friday we got 4.9" of rain and it had already rained the day before and for weeks before that more often than not. I had been working on some shop repair on dry days like recaulking the windows and working on the roof panels where they leaked water down the inside of the walls. I'm happy to say, those areas are not leaking now. If you are in the habit of reading my blog, you know what I was going through.

We finished the work and got it sent off for the gallery show at Watson McCrea Gallery on Sanibel Island FL. During the same period of time I also got the 13 finished Botanica Eroticas boxed and shipped off to Morgan Contemporary Glass who installed them on a wall at the front of the gallery.

I also sent a piece to the City of La Brea Art Gallery that was juried into the Clay and Glass Bienniel in La Brea CA. And we finished the Botanica Eroticas. The last 7 pieces are getting their frames made.

I haven't started on a new body of work yet. I have a couple of ideas and finishing the peach box is right up there at the top of the list. It's already peach season again! The main thing stopping me is, well, besides shop repair while the weather isn't blistering hot, we have a couple of small commission jobs. We've completed two and have two more. We'll be delivering this one to Grace's Restaurant in Houston TX this week.

I should be able to get back in the casting studio in a couple of weeks.

sometime in the middle of December maybe or January - We are working in the new shop getting ready for a show coming up In March...March 3 - April 4, 2015...at Watson MacRae Gallery on Sanibel Island in Florida. I'm doing three of the small limited edition series sculpted bowls and two mounted for hanging small sculptures and possibly a small table top sculpture. These will be the last of the small bowls as I am discontinuing them from here on.

These are the two wall mounted sculptures.

I've been entering juried exhibitions again and we have had The Reliquary Of Memories accepted into the Clay and Glass Biennial sponsored by the Association Of Clay and Glass Artists of California in Brea CA. The exhibition will be held at the City Of Brea Art Gallery and runs from January 24 - March 6, 2015.

Commission work has slowed down a bit giving us the time to work on the cast glass again so besides getting ready for the show in Florida in the spring, we are also working on casting the last 7 models for the Botanica Erotica series. It will be good to finally finish this series that has been nearly three years in the making although I think I am going to do one more only this one will be much larger, 18" x 18" and not nearly as thick. It will be the largest pate de verre piece I have ever done. Morgan Contemporary Glass Gallery has expressed interest in showing them but we haven't settled on a date yet. Here's a snap shot of the whole group of finished Botanicas so far.

9/28/14 - Two posts in one month but I have been busy. I have completed three new models for the Botanica Erotica so with the one I managed to get done last year before all the commission work started up, I have four new models ready to be cast. That leaves me with 1 more of the small ones and two more of the big ones. I have also been getting the frames for all the ones I have completed. When I get just two of the new ones cast, then I will have the original 3 - 6" x 6" pieces and the 12 - 4" x 4" pieces. I will be happy to get them finished, framed, and photographed all together.

I also wrote a blog post on how I am sculpting these models out of wax, sort of a step by step with pictures. If you are interested, you can read it here.

This is one of the new 4" x 4" models out of wax.

Also, last Friday was the opening of the CraftTexas 2014 show at the Houston Center for Contemporary Craft in which we have a piece. They have published the catalog on-line and you can view it here.

While we still have a lot of work to do on the new shop before we can do all our work over there, we have gotten the sandblasting part set up and we will be starting on the full size art work for a new etched glass window commission next week.

9/3/14 - It's been a busy summer. I mentioned in my last post that we bought a new shop building out here across the street from the house. It was an old auto body shop though the owner has been mostly retired since we have lived out here. He finally retired ocmpletely and put the shop up for sale. Once we had our closing, we were very interested in getting the shop/house in Houston sold. We finally accepted an offer from a small builder and closed mid-July. We had finished all but one of our commission jobs in early June and had been starting to move stuff but after the closing we really did have to finish getting everything moved. It took about another two weeks, driving away with the last load July 22, to finally get everything we were going to take including plants and cuttings.

Some of the work we did this spring was 2 panels approximately 36" x 36" for a residence in Maryland.

We also finished these cabinet doors but I was unable to get an installed picture. We did other decorative panels in the kitchen of this same residence that you can see at the bottom of this page.

Besides moving we were also having the grandkids out for their weeks during the summer. Now that school has started we are turning our attention to getting the new shop set up. We should be ready to work again by the end of this month but we still have a long way to go towards getting the new shop fixed up and arranged including tearing out the three rooms and rebuilding that space to fit our needs better and rewiring the shop.

I'm looking forward to getting back to work on the cast glass, finishing the Botanicas and starting a couple of new ideas. I hope I will have accomplished a lot by the end of the year.

Next week I deliver the Wren Box to the Houston Center for Contemporary Craft for their CraftTexas 2014 show which opens September 26 and runs through January 11.

In other news, I received notice that we are among a select group of artists being considered for inclusion in the City of Houston Portable Works Collection. The pieces in this collection will become part of the permanent collection of the Houston Airport System and will be displayed at the Intercontinental Airport.







nothing currently scheduled

Recent, Current and Upcoming Shows and Exhibitions

The Many Faces Of Glass; Watson MacRae Gallery; Sanibel FL; March 3 - April 4, 2015

Clay and Glass Biennial - 2015; Association Of Clay And Glass Artists Of California; Brea CA; Saturday, January 24 - March 6, 2015

CraftTexas 2014; Houston Center For Contemporary Craft, Houston TX; September 8, 2014, 2014 - January 11, 2015

Target: Texas Contemporary Glass; Art Museum of South Texas, Corpus Christi TX; May 15, 2014 - June 29, 2014

One Of A Kind; Kittrell Riffkind Gallery, Dallas TX; September 29 - November 3, 2012

2015 - decorative wall panel in the bar of Grace's Restaurant, Houston TX